I am always looking for ways to increase my own understanding of the scriptures, to "search" them more than just read them.
As I was preparing my Relief Society lesson tonight (I am subbing, it's not something I regularly do) I stumbled across this blog. And I LOVE it!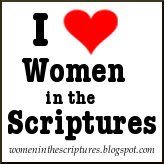 So inspiring. So gratifying. I love being a woman. We rule!